Professional Oven Cleaning
A gleaming oven, clean as the day you bought it
At Oven Rescue we have an unbeatably thorough, tried and tested approach to cleaning your oven, and making it good as new. We get into every nook and cranny of your cooker so that it's completely free of grease and cooked on grime. After we've finished, you'll have a gleaming oven that's as brilliantly clean as the day you bought it. 
That's where Oven Rescue steps in. We do all the tough work and leave you with a cooker that's good as new. 
According to research by Mintel, cleaning your oven is the least liked cleaning job in the home. Cleaning your oven yourself takes a lot of time, it can be messy and it's difficult to get really good results with the kind of cleaners you get from your local supermarket or hardware store. If you have a floor standing oven, you'll also need to spend plenty of time on your knees. And however hard you try, it's a very tall order to do a thorough job. No wonder it's such an unpopular task.
But you don't need to worry. At Oven Rescue we look after everything. Everyone in our team is fully trained, and has exactly the right materials and equipment to make your oven as good as new.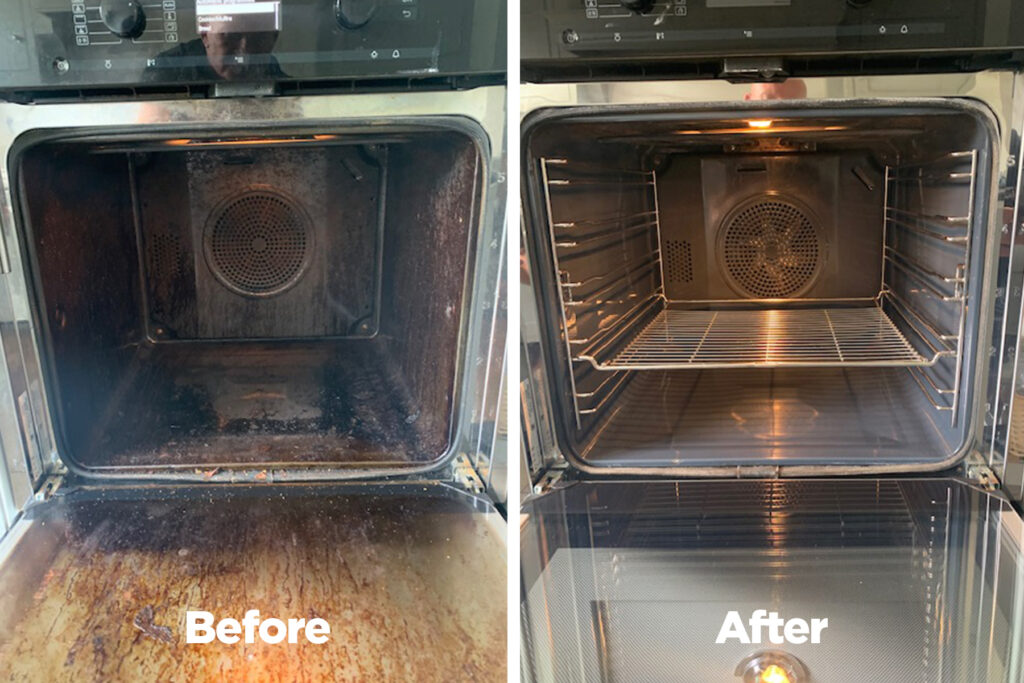 We Clean Every Part of Your Oven
Every time you turn on your oven, it gets spattered with fat, grease, spills and food particles. That leaves baked-on deposits on the inside, and messy bits on the hob, control panels and surrounding areas.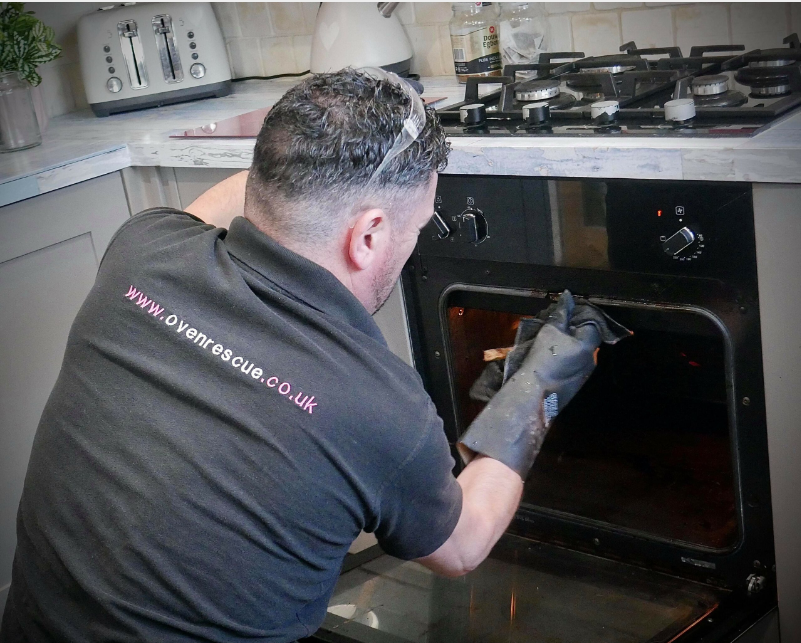 Doors, glass, hinges and seals
Cooked on grime can be incredibly stubborn to remove, and the only sure way to clean up is to soak your oven door in a large, deep tray filled with the right cleaning solution. The first step is to remove the oven door, which can be awkward, but we have never come across one we can't take off. We take care of the glass, door hinges and seals too, so that the whole door assembly is ready to be slotted back onto your oven once it is all completely clean and dry.
Racks and rack guides
The racks in your oven are subject to all the grease and baked-on residues as the rest of your oven. Once again, soaking is the answer, as it is for the rack guides which are removable in many ovens.
Oven trays
You can try and keep oven trays clean by lining them with foil or baking sheets. But whatever steps you take, it's impossible to give complete protection from the seepage of cooking juices and food scraps, and the high cooking temperatures that leave your oven trays spattered with dark marks. Our cleaning solutions will bring your trays back to the state you'd see in a showroom.
Fan/fan cover
Fan ovens help you to cook evenly, but they also circulate droplets of fat and cooking juices which stick onto all parts of the oven. The fan itself is almost always protected by a cover which can often be removed for thorough cleaning.
Oven cavities
Once everything which can be removed has been taken out of the oven, we get down to the business of cleaning the inside. We apply a powerful, odour-free cleaning agent and let it work away on the grime. We'll repeat the process if needed, then clean off the residue and wipe down the interior so that it's gleamingly clean and ready for use.
Whether it's an eye-level, built-in or floor standing oven, whether it's electric or gas, whether it's a single or double oven, or a range cooker… we'll get into every corner of the cavity and remove every last scrap of cooked-on residue, including on bulb covers, fans and linings. If your oven has features such as rotisserie mountings and spits, we'll clean up these as well.
Hobs
Hobs bear the brunt of spillages when you cook. The high heat of gas burners and electric plates can make everything that's spilled into hard, untidy smears and grime. The way we clean will return your hob to pristine condition. We'll also look after your pan supports and gas burners. While ceramic and glass hobs are easier to keep clean, we'll make sure yours is whistle-clean too.
Controls and knobs
Your cooker's panel of knobs and controls can't escape the spills and general usage that can leave them marked, greasy and in need of a good clean. That's important from the point of view of hygiene as well as efficient operation.
Warming drawers
If your oven has a warming drawer, it can bear the scars of spillages and the build-up of greasy deposits and can get forgotten when it comes to cleaning. Our super-thorough approach includes making sure your warming draw is spotless and ready for use.
Extractor hoods
Extractors are another essential part of cooking equipment that sometimes gets forgotten. Yet anyone who has got to grips with a cooker hood knows only too well how much grease and unwanted residue can accumulate above your hob and oven. We'll give your extractor hoods a deep clean, letting them remove odours and particles with full efficiency.
Self-cleaning ovens
A word about self-cleaning ovens. They provide an attractive sounding solution to oven-cleaning but are they as effective as you would like? 
Self-cleaning ovens use either high heat (pyrolytic) cleaning or steam. The pyrolytic approach involves running your oven at maximum heat for a prolonged period to reduce all cooking residues to ash. Ovens of this kind feature very robust construction and materials which are able to stand up to several hours of extreme heating. The downside is that you're likely to experience plenty of 'burnt' odours and consume lots of power. You will also want to wipe out the oven to remove any residue.  
Self-cleaning ovens which use steam to loosen up residues are a lot gentler, but the steam clean approach is unlikely to deal with the most stubborn cleaning challenges. It's a step in the right direction for a cleaner oven, but steam cleaning is not a comprehensive solution.
At Oven Rescue we are often called in to give self-cleaning ovens a thorough clean. For many clients, a professional clean is a great approach to be used with more regular self-cleaning operations. We use the same approach as for any standard oven, making your cooker as good as new.  
We clean pretty much every make of oven that's ever been made! Here's a list, but don't worry if your oven isn't included – we'll still do a brilliant job.
AEG
Ariston
ATAG
Baumatic
BekoBelling
Bosch
Brittania
Candy
Cannon
Creda
Crusader
Diplomat
Donestic & General
Electra
Electrolux
Flavel
Gala
Haier
Hoover
Hotpoint
Howdens
Hygena
Indesit
Jackson
John Lewis
Kitchen Aid
Lancanche
LEC
Leisure
Miele
NEFF
New World
Parkinson Cowan
Parnall
Philco
Privileg
Proline
Rangemaster
Samsung
Scholtes
Schreiber
Servis
Siemens
Sharp
Smeg
Sterling
Stoves
Thorn EMI
Tricity Bendix
Whirlpool
Wren
Wrighton
Zanussi
How to clean an oven FAQs
"Trevor did an incredible job on both our ovens and barbecue. We honestly didn't think either could look brand new again. So worthwhile and won't hesitate to ask back again in 6 months."
"Mike did a fantastic job cleaning my oven, hob and extractor. Spotless, no fuss, smell or mess. Highly recommend Oven Rescue. 10 out of 10!"
"What a great job, my oven looks brand new, thanks so much, would highly recommend."
"Just had my double oven cleaned by Jon Goff in Dorking. What a fantastic result, it looks and smells like new! So pleased I booked, 2 and a half hours later job done with a bulb replacement in the oven and a free ceramic hob clean too. I thoroughly recommend this company and Jon."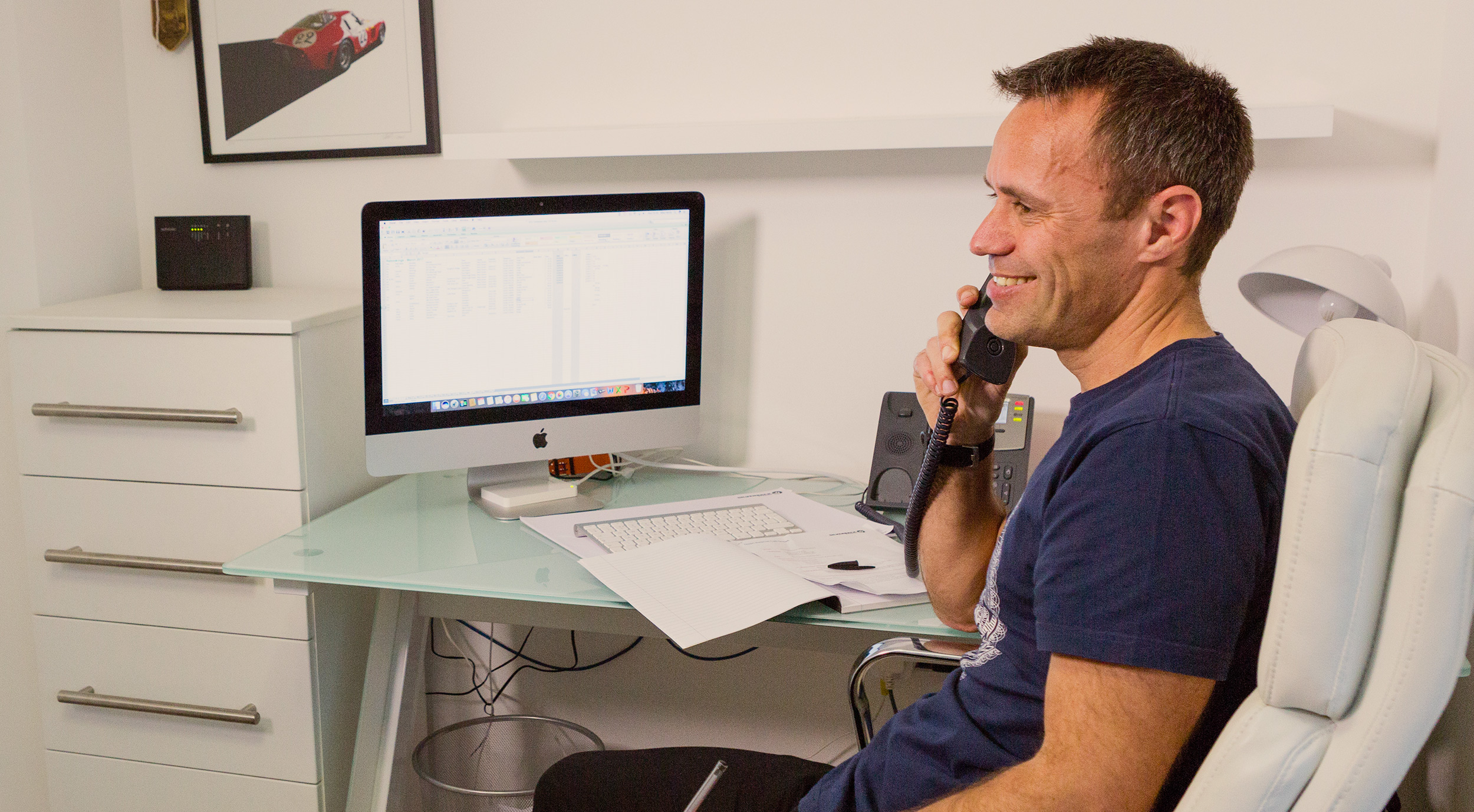 Ready to have your oven cleaned?
We would love to help you restore your oven to its sparkling glory.
Booking a professional oven clean is easy, click on our quote request and we will find your local Oven Rescue representative.