From Redundancy to Successful Oven Cleaning Franchise - Simon Piddock
Tell us a bit about yourself
I'm 62, and I'm coming up to ten years with Oven Rescue. Before becoming a franchisee, I worked in printing which I went into straight from school. I finished with printing when I was offered redundancy as the business moved north.
What made you choose Oven Rescue? 
I knew my previous job was coming to an end well in advance, so I had time to work out what I wanted to do and to research businesses. I was impressed by the success rate of franchises, and narrowed my search down to window blinds or oven cleaning. My daughter told me I couldn't do blinds because I'm useless with colours, so oven cleaning it was. 
I talked to three different oven cleaning companies. One booked appointments for you so it wasn't like running your own business, and another made you buy a van and materials through them so you were out of pocket, and then I talked to Mike. I was impressed by how open and honest he was. I did a taster day and decided to go for it.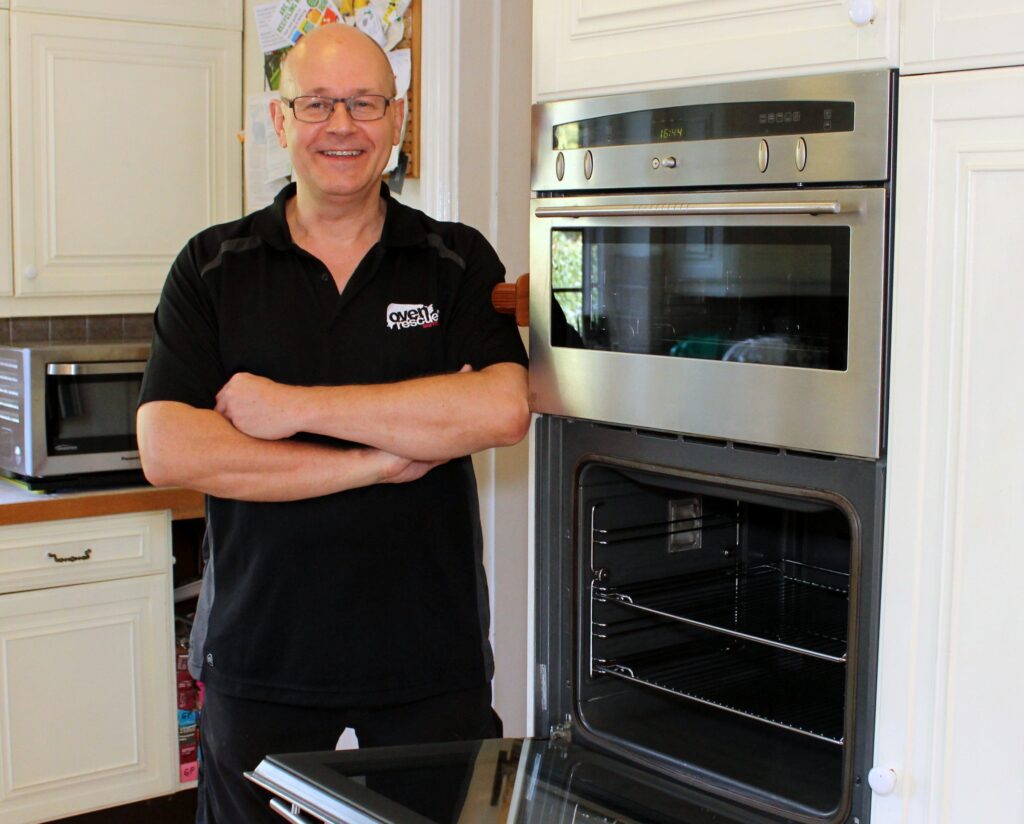 Did you know anything about oven cleaning?
Not really, but I'm practical and good with my hands.
How did your training go?
I spent two weeks training on the job with Mike, learning about cleaning, and how to get new business. Mike gave me plenty of advice. The main thing is learning how to do the job well, which is what makes customers come back again and again. I now take new people out on taster days to show them what working for Oven Rescue is like. 
What's the ongoing support like?
There's plenty of advice direct from Mike, and from other franchisees, especially through the Oven Rescue WhatsApp group. 
What's Mike like to deal with?
Mike is a really genuine guy – we hit it off straightaway. He's always there to answer your questions and sort problems.
What's a typical day?
I usually book in my first job for 9.30, after customers have got the kids to school. I'm usually finished by 5, but I have complete flexibility about how I arrange my own diary. I'm getting on a bit, so I now do 2-3 jobs a day. 
Quite often my customers think I only do ovens, but when I tell them I do hobs, extractor fans and BBQs too, I'm regularly asked to come back and do them too.  
What's oven cleaning like? 
It's not heavy work but it is physical, and you quite often have to get down on your knees. You meet interesting people in nice places and leave them very happy. I've even had one lady in tears, crying with joy about her sparkling clean oven.
How does Oven Rescue work for you financially?
The work gives me all the income I'm looking for, and will keep doing so until I decide to retire.
Are there any downsides to franchising with Oven Rescue?
No – none that I can think of!
How strongly would you recommend an Oven Rescue franchise?
It works for me – you can't really get a better recommendation than that.
What are your top tips for anyone thinking about an Oven Rescue franchise?
Compare Mike's fees with other oven cleaning franchises. Whatever you do avoid any that take a percentage cut of your earnings, so the harder you work, the more they earn. Mike's fixed fees are so much better.
What's the first step for anyone thinking about an Oven Rescue franchise?
Give Mike a call, and see about doing a taster day to see Oven Rescue in action. If you're like me, you'll be absolutely convinced.
Get in touch to find out more and start your new career today.